THE ONLY MALE ENHANCEMENT SUPPLEMENT THAT PASSED CLINICAL TRIAL
84 DAYS OF LAB TESTS WITH ASTONISHING RESULTS!
YOU WON'T BELIEVE WHAT THE RESULTS ARE…
VmenPlus is not just your usual fake male enhancement supplement…
It really works!
This only herbal male enhancement supplement, which underwent clinical trial by independent lab, with placebo pill control and 75 strictly selected participants.
In addition, we are open about the result! You can get and learn the original study result from our website. There are no other 'herbal supplements' for erectile dysfunction with this kind of endorsement. Why? Because they only want your money!
The study of VmenPlus product is conducted by independent study, and we also have this product improved for 10 years prior. The results: astounding!
We kid you not; this is the clinical test result we received by the independent lab that did the experiment, Vedic Lifesciences Pvt. LTD. All results in various tests show that VmenPlus really INCRESASES:
Penis erection and erection maintenance to 62.28%
Orgasm quality and frequency to 22.49%
Penis ability to penetrate sexual partner to 59.97
Sexual drive and libido to 47%
Sexual satisfaction to 71%
These are not made up numbers; they are all results from independent clinical study by independent lab, with real participants selected from specific groups that really represent majority of male populations, and they used placebo pill control method.
Have you ever known about other male enhancement herbal supplements that went through this? We bet you don't.
So, how VmenPlus got its deserved reputation?
Here are some excerpts from 56 pages of clinical study results from Vedic Lifesciences lab…
The experiment details…and
How VmenPlus was proven the best male enhancement capsules
Here are proofs of why VmenPlus was seriously tested and researched: the study was conducted in several conditions that made the results genuine, such as:
The participants were chosen from specific demography that will be more likely to experience erectile dysfunction; 75 heterosexual males aged between 25 and 60 years old who have monogamous relationship. All are healthy without any STDs, cardiovascular disease, pregnant wives or sexual partners, and naturally low level of testosterone (which can affect the results).
The test subjects were given placebo pills to balance the test result.
The test was done as the triple blind study, which means nobody knew which participant took what pill (VmenPlus capsule or placebo).
Every participant was controlled by frequent visits to their houses and researches took notes of their developments after using the pills.
These steps were taken to ensure the results. So, before you read the results below, please note that there's no way we present you with false information!
THE SURPRISING RESULTS OF 84 DAYS INDEPENDENT CLINICAL TRIAL
PROVES THAT VMENPLUS REALLY WORKS!
Do you remember the study results we put on the first part? Here are the details that will really surprise you:
The subjects who took VmenPlus maintain the thickness and length of their erections 62.28% more! Compare that to the result of those who took placebo, who only got 10.18% in result.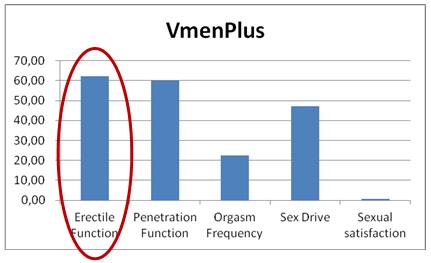 The subjects who took the real products were able to penetrate their partners better! This was known by interview to both subjects and partners. Increased penetration ability reached the whopping percentage of 59.97%!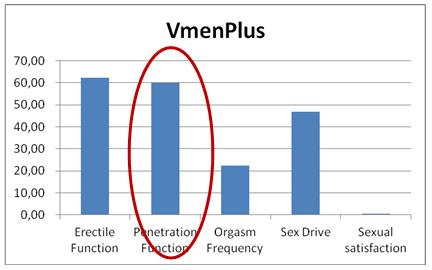 The subjects who took real products also reached 22.49% of increased orgasm frequency and quality, and it only took 84 days!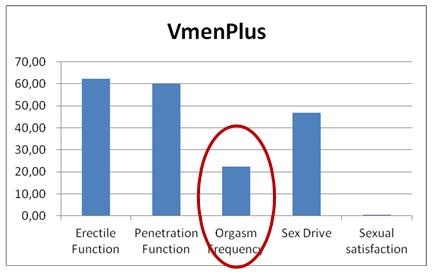 What about sex drive? It turned out that VmenPlus also improved sex drive of 47% over the course of 84 days. It increased sex boost in less than 3 months? Only VmenPlus can do that in safe way (no reported negative side effects from the participants).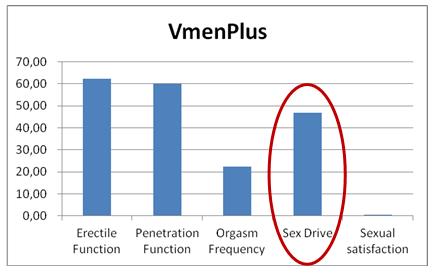 Subjects also reported increased satisfactions during sexual activities, including when intercourse happens. It was more than 71% compared to only 10% of increase for subjects who took placebo.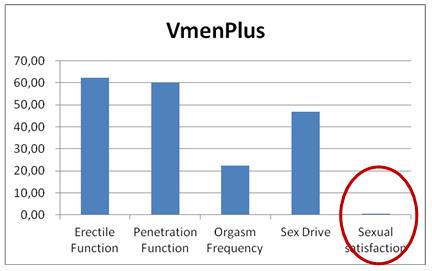 Finally, what about satisfaction in sex life? As mentioned, subjects reported 60% increase in overall satisfaction regarding of sex life. And the placebo? It was only 10%! So, which one will you choose?
Amazing results were achieved in only 84 days with regular consumption!
As the subjects continued to consume suggested dose (3 capsules per day), they experienced not only longer erections, but also better sexual life and higher sexual drive and energy.
The best things about these results….
Not one subject reported about negative effects related to cardiovascular conditions!
And of course, most subjects will continue to take the VmenPlus, now that they already know the results of this supplement. The results are also backed up by interview results and endorsement from all subjects' wives or female sex partners.
The fact is: 90% of participants who joined this study as subjects are now consuming this supplement as regular male enhancement supplement!
So, if they have found the positive impact in their sexual life, there are no reasons why you should not follow suit!
SUPER POSITIVE RESULT OF TAKING VMENPLUS HAS BEEN PROVED!
VMENPLUS MAINTAIN ERECTION, INCREASE LIBIDO AND SEXUAL DRIVE, INCREASE ERECTION CONTROL AND SIGNIFICANTLY INCREASE YOUR SEXUAL DRIVE AND LIFE
So, if you still doubt the authenticity of this study, remember:
Vedic Lifesciences is a respected independent clinical lab with good reputation, and has no affliction whatsoever with our products, SO THE STUDY RESULT IS POSITVELY FAIR.
All the studies were written in 56 pages long of study results, which can be downloaded from our website.
All studies were done in triple blinded method (nobody knew who took what, including the scientists), strictly controlled environment with well selected subjects from related demographics.
If the results are positive…will you still refuse this supplement?
Conclusion: Take It!
Yes, our products have gotten positive results from Vedic Lifesciences, which means you can also take benefits from VmenPlus. We have studied this product for 10 years and had it studied by independent lab before we got this conclusion:
VmenPlus is a supplement that not only helps you maintain the erection and increasing the stamina, but also increasing sexual libido and really improving sex life!
No other male enhancement supplements can do these; no such products are backed up with independent clinical trial and study. Only VmenPlus could do them.
So, we greatly recommend you to take this supplement because:
Vedic Lifesciences has confirmed that 90% of all subjects who have experienced the benefits of VmenPlus are now regularly consuming the supplement.
VmenPlus is not those 'herbal supplements' that only give temporary solution on your erection, but also solves the core problems and really increases your sex life.
There are no reported side effects; these are often associated with male enhancement supplements, such as perspiration, increased heart rates and even cardiac arrest.
If you have problems with erectile dysfunction, do not gamble with questionable products with possibly harmful ingredients and non-existent benefits. Take VmenPlus twice a day and notice the changes only in the couple of weeks!
VmenPlus Increases Sexual Libido, Improves Penetration Skill and Generally Makes You Feel More Satisfied in Sexual Life!
Never Hesitate to Try This Product and Improve Your Sexual Relationship Quality!

The testimonials found on this site as well as all medical endorsements are from REAL customers
Consult your physician or other health care professional before starting this or any other and REAL medical professionals supplement program.
— Terms & Conditions — Email / Privacy Policy —
Copyright © 2001-2019, VmenPlus Suplement HEALTH
Leading EXGRE Marketing Inc. Leading EXGRE GERMANY Marketing Ltd
All Rights Reserved.
These statements have not been evaluated by the Food and Drug Administration.
This product is not intended to diagnose, treat, cure, or prevent any disease.